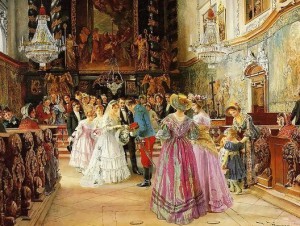 Renaissance wedding ceremonies were very unique. Many tend to think they were more a civil wedding than a church wedding.
Here are some of the features that makes this ceremony unique and interesting:
Hand fasting
This symbolized the tying of the knot. The held each other hand and then a cloak was tied to their hands. In other places it was symbolized by cutting a lock of hair of both the partners and tying a knot, or also drinking out from same cup.
Flowers on their heads
Brides preferred wearing a woven flower around their head. They always matched the flowers to the dresses they wore. It symbolized fertility.
Tiered cake
Guest usually brought smalls cakes which they were piled together and if the couple would be able to kiss on top of the cakes without knocking them down, it meant good luck to their marriage.
Throwing rice
After the celebration they used to throw rice on the wedding couple.
This was good luck because it symbolized fertility.
The Italian renaissance wedding had 4 different stages. It included impalmamento, sponsalia, matrimonium, nozze. These occasions were widely spread and could take even years to be completed.
The first stage was impalmamento which was the handshake earlier mentioned that sealed the wedding. This was actually the first time that both families met, before this they used a neutral intermediate to coordinate the negotiation. It was not necessary on the money negotiation but as time passed money became compulsory.